A reader recently asked me if I knew of any good and free budgeting spreadsheets. Personally, I love Excel and get a kick out of building spreadsheets, but I know not everyone is as interested in that as I am.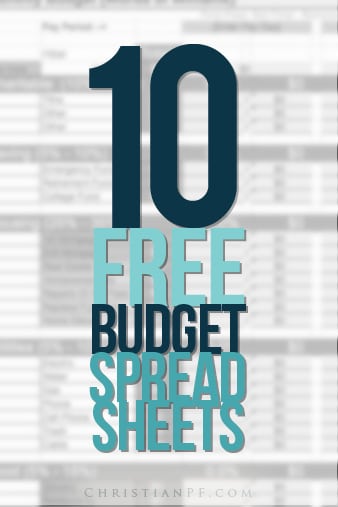 But whether you like to create spreadsheets or just like to use them, we have a lot of good options for you!
Each one of the sheets below are free and are designed to be used with Excel, but will more than likely work if you use OpenOffice (basically a free version of Microsoft Office).
Some may also work with Google Docs, but I have had bad luck with some of my imports into Google Docs.
Each of the budgeting sheets below have their own strengths and weaknesses, so give try them out, see what works, and make tweaks and changes if necessary. If you have a spreadsheet that you have built or have found (that is free to distribute) please provide a link to it in the comments below.
This is my favorite Excel sheet I have found, but the downside is that it isn't free. They do have a free demo, but the full-version is $15.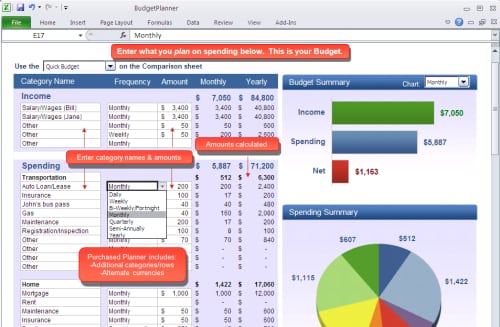 But if you don't have the cash to spare, don't fret, we have more than 10 other great spreadsheets below that won't cost you a dime.
And since we are talking about free spreadsheets, I will tell you about one I built and use. It isn't necessarily for budgeting, but it really helps keep our finances organized.
FLOP (Financial Life on One Page) – Basically my balance sheet to calculate my Net Worth, keeps track of account numbers, and other information about all my financial accounts.
If you are just getting started budgeting, I suggest reading this article first: How to make a budget. Once you are finished, you can look through the 70+ sample budgeting categories and then come back to this article and download one of these sheets.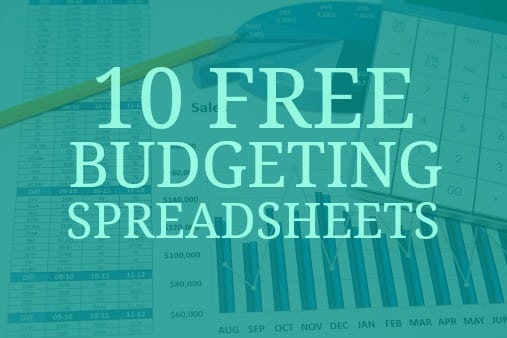 Household budgeting Spreadsheets
Here are all the personal budgeting templates listed in no particular order. If you want to see them in action you can check out this video here.
This user-friendly Excel budget template has just the right amount of features to help you get your budget in order.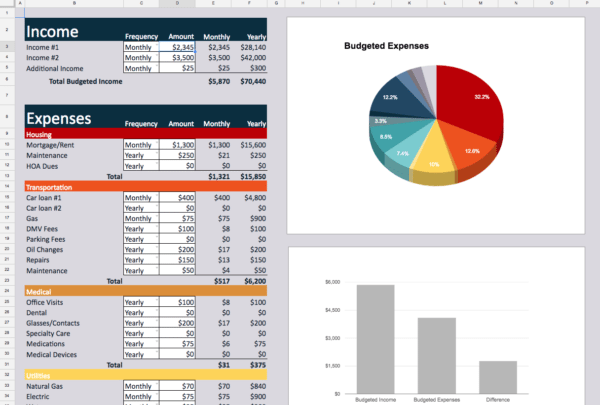 Download: Click here to download (email signup required)
A colorful and easy way to track your budget and overall Financial Snapshot!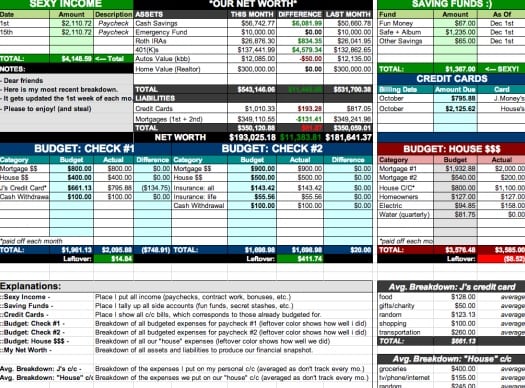 Download: Excel File (XLS) | Google Docs
A monthly budget spreadsheet complete with written and video tutorial on how to use it. Also has a handy fuel calculator.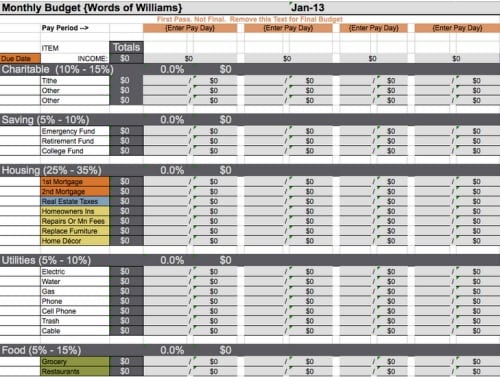 Download: Newsletter sign up required
4

Free Budget Template

This one is a spreadsheet and includes a PDF budgeting worksheet version as well. It was created by a CPA, so that says something right there.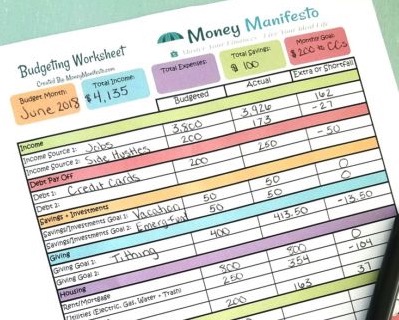 Download: Newsletter signup required 
This one is good if you are trying to add up income and expenses and find the difference between the two.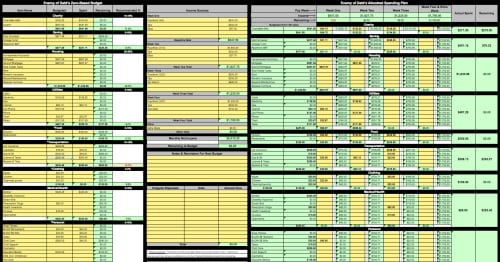 Download: Excel File (XLS) | Google Docs
This sheet provides you with all of the possible categories to create your wedding budget, a place to estimate your spend as well as tracking your actual spend.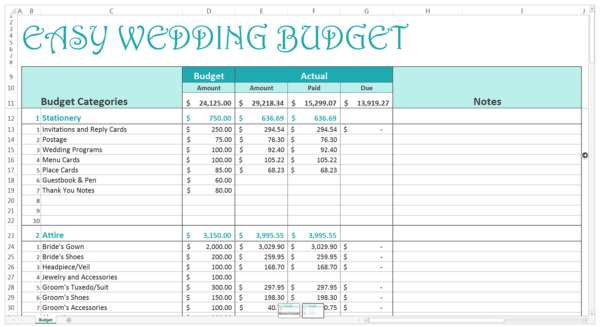 Download: Download XLS or Google Sheets
7

GLBL Budget Spreadsheet

Simple it is different than most because it works by pay period, rather than by month.
Download: Excel File (XLS)
This is a really cool spreadsheet that helps you decide the best method for paying down your debts. It allows you to create a debt reduction schedule based on the debt-snowball method. The first page is a basic calculator for you to enter your information, choose your total monthly payment, and see a summary of the results based your debt reduction strategy. The second page is a printable payment schedule to help you keep track of your progress.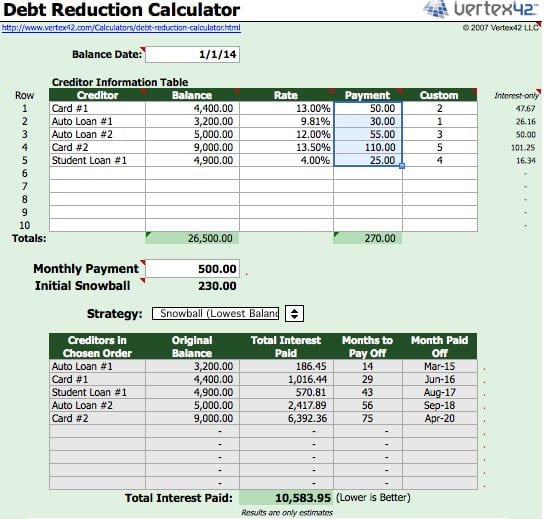 Download: Excel File (XLS)
9

Personal Budget Worksheet

A famous old Microsoft budgeting template. It is very simple but has proven to be helpful with the 2,000,000+ downloads. I like this one because all it does is provides a sheet to add up your expenses and your income showing the difference.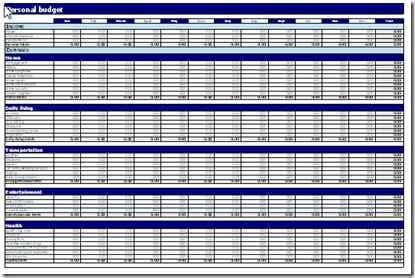 Download: Excel File (XLS)
Very thorough with possible paid upgrades if desired.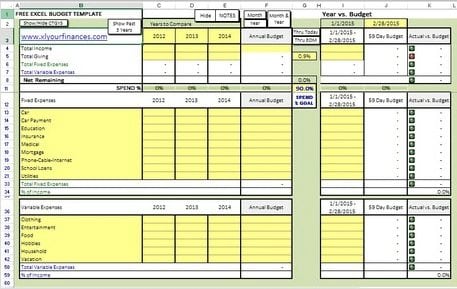 Download: From Website
A good and simple budget spreadsheet. The user has to enter each purchase and details in order to get full and accurate tracking of daily expenses.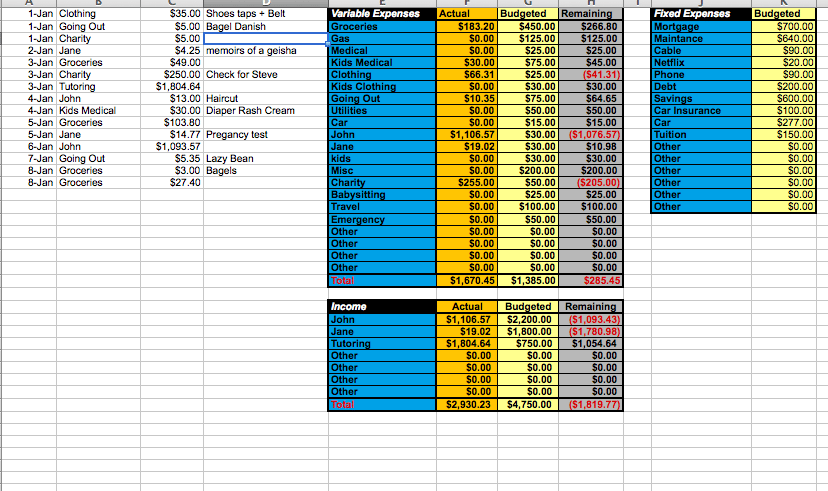 Download: Excel File (XLS) | Google Docs
Thoughts about household budgeting
If you are just getting started budgeting I suggest reading two articles I wrote – How to make a budget and why budgeting is like baking cookies. From personal experience, I can assure you that you won't get it right the first month. It's okay, just keep making adjustments and it will get better and easier each month.
Budgeting of some sort is critical if you want to master your finances or get out of debt.
If you are just starting, I wish you all the best and let us know about what you learn in the comments! Also, be sure to check out the article I wrote listing 15 places to get free budgeting software.